INSTITUT DE LA FILTRATION
ET DES TECHNIQUES SÉPARATIVES
A Technology Transfer Centre at the service of innovation, our know-how at the heart of your competitiveness.
EXPERT FILTRATION & SEPARATION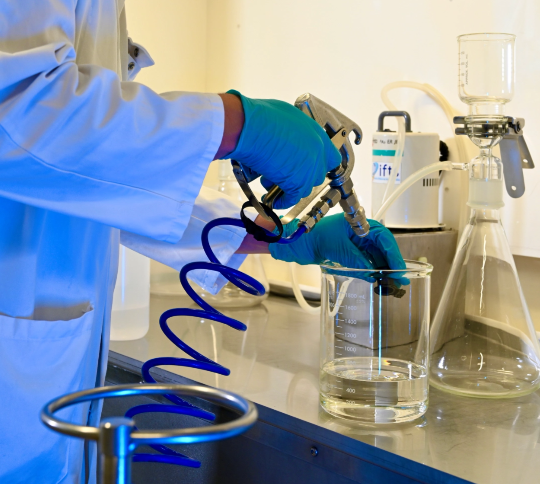 Our skills rely on lengthy of experience in Separation Techniques, state-of-the-art testing facilities with a unique fleet of equipment, advanced labs and a team of scientists, engineers and technicians, among in their fields.
We support users and manufacturers worldwide in their liquid-solid separation and in their air treatment activities or gas cleaning system.
Our rationale: to create a real link between research and industry, expertise, and the exploitation of results, at the service of your projects.
lFTS is an independent association, linking university and industrial structures.
The primary objective of lFTS is to satisfy the customer and to respect the confidentiality it is committed to.
IFTS, through its staff, has a wide range of technical skills and is constantly seeking innovation and improvement.
IFTS is a motivated team, attentive and reactive, to meet your expectations.
Does your process include a filtration/separation step?
Are you a manufacturer of separation solutions?
IFTS can help you. The knowledge developed at IFTS applies to all industries.
Based in Foulayronnes, between Bordeaux and Toulouse, in the South West of France, IFTS has an international positioning and has two subsidiaries: one in the USA (Middlesex, NJ) and the other in China (Shanghai).
Institut de la Filtration et des Techniques Séparatives
Rue Marcel Pagnol
47510 FOULAYRONNES
Tel. +33 5 53 95 83 94 Roger Ben Aïm Test Centre :
9001, Rue du Duc d'Orléans
Site Rouquet
47000 AGEN
IFTS Inc.
200 Pond Avenue
Middlesex, New Jersey 08846 USA
Shanghai Liquid Filter Testing Technology
Co., Ltd
No. 825, Ningqiao Road,
Pudong New District
PRC 201206 SHANGHAI
Zhigang WU
wu.zhigang@filtertesting.com